2021 Jeep Gladiator vs 2021 Ford Ranger
2021 Jeep Gladiator vs 2021 Ford Ranger
The market of midsize trucks is constantly challenging the big truck brands. The 2021 Jeep Gladiator and 2021 Ford Ranger are the latest pair to join the battle ring. We compare the new models below to learn more about how the Gladiator stacks up against the Ranger.
2021 Jeep Gladiator vs 2021 Ford Ranger Overview
By looking at the 2021 Jeep Gladiator, you can tell that this new model has enough of its own character to be a hit off-road vehicle. The new pickup truck has an aggressive look and boasts three engines: a standard 3.6-litre V6 engine, an EcoDiesel 3.0-litre V6 with 260 horsepower and 442 lb-ft. In addition, it comes with a 6-speed manual transmission and an 8-speed auto transmission.
The Ranger is a very adaptable midsize pickup truck that surpasses the previous year's model. It has a turbocharged 2.3-litre Turbo I4 engine that is powerful enough to offer plenty of pulling power. This engine gives it 310 horsepower and 350 lb-ft of torque. You can come in today or any time at your convenience to check out our new inventory.
Trims Comparison
You'll find the Gladiator Desert Rated, the newest badge. It comes in Sport, Rubicon, Mojave, and Overland trim levels. The lowest Sport trim features roll-up windows, a 5-inch infotainment screen, and cloth seating. Higher trim levels boast excellent features like 8.4-inch infotainment, leather seating, and much more.
The Ford is available in trim levels like XL, XLT, Lariat, FX4, and Ranger Wildtrak. Trim levels offer two-door or four-door configurations with a variety of bed options. The 4×4 drive is standard on all trims, while the eight airbags are optional.
Interior Comparison
The interior of Jeep Gladiator received all the up-to-date upgrades. There are new upholstery, a steering wheel with paddle shifters, and many more features to unlock. Our Finance Centre will help you set up payments for your next mid-sized truck.
The 2021 Ford Ranger also boasts a new interior. However, it is different from one the Gladiator has. Its interior materials and features are also limited.
Exterior Comparison
The new Ford Ranger has an exterior that is not too much different from the previous model. Additionally, it only provides a limited edition of two and four-door models, most importantly without any options for beds. This can be not very reassuring for consumers who need these trucks to transport lots of items around town.
On the contrary, the Jeep Gladiator boasts the latest exterior that features a more sporty style. It comes with several bed options, including short and long-bed configurations. Moreover, it has an excellent coil-spring rear suspension system that can handle off-road conditions effortlessly.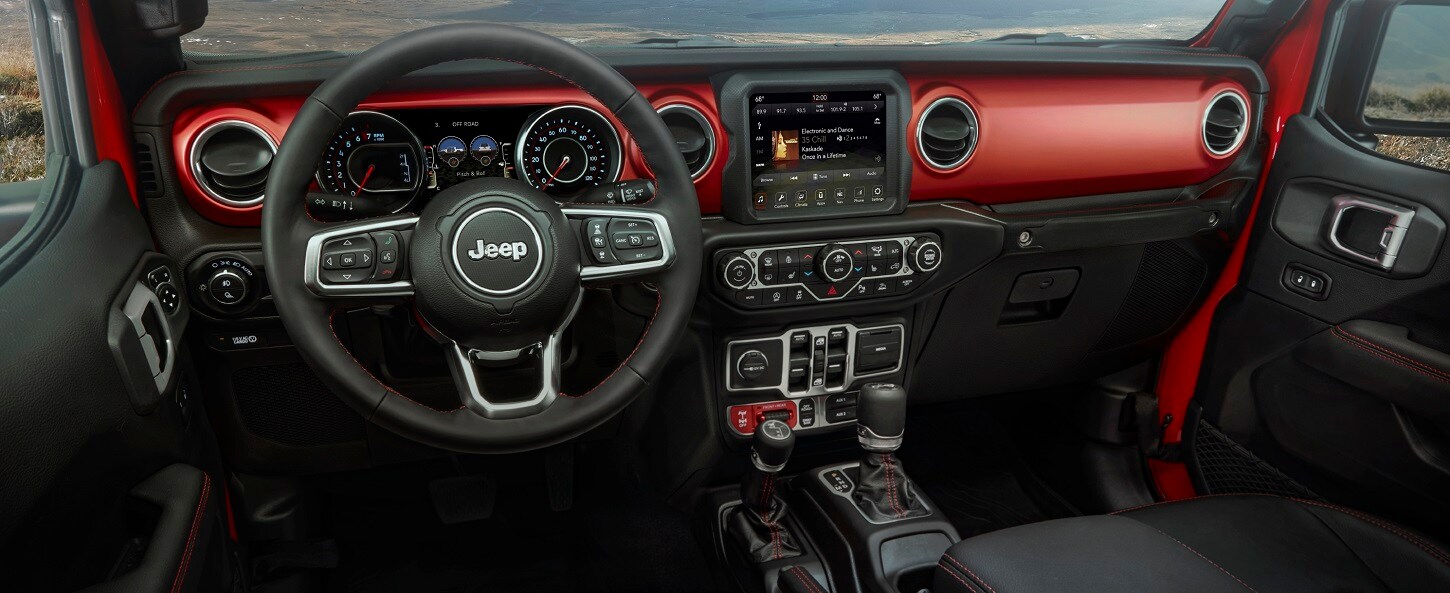 Technology and features
Looking at the technology of these two trucks, you will notice that the Jeep is significantly advanced. It boasts easily accessible infotainment controls and a spectacular 8-inch system right in the center console. Its higher trim levels also feature several safety features and plenty of screen options to use. For example, it offers an 8.4-inch Uconnect screen, an 8.4-inch touchscreen media hub, and a 4G LTE WiFi hotspot to use.
On the other hand, the Ranger offers a 5-inch infotainment system with SYNC3 technology. Therefore, it is easy to connect your smartphone or play music from multimedia sources such as CDs and external media.
Safety Features and Specs 
The Ford Ranger features a decent amount of safety features. It comes with eight airbags, optional driver's Blind-Spot Monitoring, Lane Departure Warning, And Adaptive Cruise Control. However, this is not enough to beat the Jeep's brand-new safety features, though.
It has advanced systems such as Autonomous Emergency Braking With Pedestrian Detection, Forward Collision Warning with Pedestrian Detection, Adaptive Cruise Control with Forward Collision Warning, and Lane Departure Warning. Contact us with any questions.
2021 Jeep Gladiator Inventory in Mitchell, Ontario